Leena Spices
SRI LANKAN SPICE BLEND - LEENA SPICES PRODUCT
---
SRI LANKAN SPICE BLEND - LEENA SPICES PRODUCT
A traditional and authentic spice blend with carefully chosen ingredients. Ground and roasted to bring out the best of Sri Lankan flavour. Can be used with meat, chicken, fish and vegetables.
No preservatives or additives. No food colouring. Salt free. Gluten free. Nut free and Fat free.
Ingredients: Black pepper, Cardamom, Cinnamon, Cloves, Coriander, Cumin, Curry Leaves, Fennel, Fenugreek, Mustard seeds, Paprika and Turmeric.
Customer Reviews
11/24/2020
Terry J.
New Zealand
Excellent authentic blend.
Friendly, personalised service, and a great product. Went equally well in a fried pork curry (Ooroomas Badun, according to the doyenne of accessible Asian cookery, Charmaine Solomon) and also an old fishing trip standby, trevally curry. The crew thoroughly enjoyed both. Cheers, Leena - definitely some repeat business here! Terry
10/11/2020
Jo
New Zealand
Fantastic site, service & product!
I am so excited to have come across Leena's spices! What a treasure trove!! The range is extensive, the spices are glorious, the packaging perfect (and environmentally sound) and the service so friendly. It is lovely to feel appreciated as a customer - and despite an online service - to have individual correspondence. Thank you Leena - definitely a lifetime customer here. Very impressed and happy!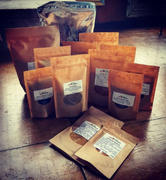 09/29/2020
Karen S.
New Zealand
Excellent product/expensive postage
Excellent product. Only issue I have was the cost of postage was as much as the product and this would put me off purchasing from you again. You should include cheaper postage options.
09/18/2020
Helen O.
New Zealand
Sri Lankan Spice Blend
Only used it once but it was a real hit!
08/13/2020
Amanda C.
New Zealand
Sri Lankan Spice Blend
I purchased Sri Lankan Spice Blend from Leenas to replicate a Hello Fresh curry. I had never used them before but I really wanted to recreate the dish. I was really happy with the result, very authentic tasting, countn't have been happier. Will definately order from them again!!!
---
Customers also viewed